Analysis of Human Resources Development Factors on Nurse Performance at Patient Ward, Dr. Abdoer Rahem Hospital, Situbondo, East Java
Abstract
Background: Hospitals are required to be able to provide optimal health services for the community by improving the performance of hospital employees, one of whom is a nurse. Important Human Resource development factors are education, training, work periods, transfers and promotions. These factors are expected to improve the performance of nurses in providing nursing services.The aims of this study was to describe the influence of Human Resource Development on the Nurse Performance.Subjects and Method: This was an analytic observational study carried out at dr. Abdoer Rahem Hospital, Situbondo, East Java, from 12 to 28 May 2022. A sample of 112 nurses was selected by simple random sampling. The dependent variable was nursing performance. The independent variable are education, tenure, training, transfer, and promotion. The data were analyzed by a multiple linear regression.Results: Education (b= 2.23; 95% CI= 0.26 to 6.14; p<0.001), tenure (b= 0.19; 95% CI= 0.32 to 3.70; p<0.001), had trained (b= 0.08; 95% CI= 0.15 to 2.06; p= 0.042), transfer (b= 0.37; 95% CI= 0.16 to 2.36; p= 0.020), and promotion (b= 0.36; 95% CI= 0.15 to 2.22; p= 0.029) were significantly associated with nurse performance.Conclusion: There is a very significant influence between of education, work periods, training, mutation and promotion on the performance of nurses at dr. Abdoer Rahem Hospital Situbondo.Keywords: human resources development, nurse performanceCorrespondence: Agung Setyanto. Masters Program in Public Health, Strada Indonesian Institute of Health Sciences. Krajan Sumberejo, Banyuputih, Situbondo, East Java 68374, Indonesia. Email: agungwidiyana86@gmail.com. Mobile: +6281252468273.Journal of Health Policy and Management (2023)https://doi.org/10.26911/thejhpm.2023.08.01.05
References
Bachtiar R (2016). Hubungan Pengembangan Sumber Daya Manusia dengan Kinerja Pegawai di Puskesmas Batua Kecamatan Manggala Kota Makassar Tahun 2015.
Byars LL, Rue LW (2006). Human Resource Management. McGrawHill. Edition 8.
Dessler Gary (2010). Manajemen Sumber Daya Manusia. Jakarta Barat: PT Indeks. Edition 10.
Dharmayuda AANG, Wulandari LPL, Wirawan DN (2014). Workload Analysis of Doctors at Puskesmas Using Workload Indicators of Staffing Need in Denpasar. Public Health and Preventive Medicine Archive. 3(1):20-26.
Djestawana IGG (2012). Pengaruh Pengembangan Organisasi, Kepemimpinan, Jenjang Karir terhadap Kepuasan Kerja dan Kinerja Pegawai Puskesmas. Jurnal Kesehatan Masyarakat Nasional. 6(6):261-266. Doi: 10/21109/kesmas.v6i6.79.
Elizar, Tanjung H (2018). Pengaruh Pelatihan, Kompetensi, Lingkungan Kerja terhadap Kinerja Pegawai. JIMM. 1(1):46-58. Doi: 10.3059/2Fmaneggio.v1i1.2239.
Gaspersz V (2005). Sistem Manajemen Kinerja Terintegrasi Balanced Scorecard Dengan Six Sigma Untuk Organisasi Bisnis dan Pemeritah. Jakarta: Gramedia Pustaka Utama.
Hasanuddin, Akmal, Kadir A (2013). Faktor-Faktor yang Berhubungan dengan Upaya Pengembangan Karir Perawat di Rumah Sakit Bhayangkara Mappa Oudang Makassar. Diagnosis. 2(6)
Hasibuan HMSP (2000). Manajemen Sumber Daya Manusia. Edisi. Revisi. Jakarta: PT Bumi Aksara.
Juliana, Hakim L, Mustari N (2015). Pengaruh tingkat pendidikan terhadap kinerja pegawai di badan perencanaan pembangunan daerah kabupaten enrekang. Public Adm. 1(1):12-19. Doi: 10.26618/kjap.v1i1.611.
Misniarti (2010). Aspek penting pengembangan dan pemberdayaan sumber daya manusia (SDM) kesehatan di era desentralisasi. Jurnal Ilmu Kesehatan Masyarakat, 1(1): 12-19.
Moeheriono (2009). Pengukuran kinerja berbasis kompetensi: competency based human resource management. Jakarta: Ghalia Indonesia.
Moekijat (1991). Latihan dan Pengembangan Sumber Daya Manusia. Bandung: Mandar Maju.
Moenir AS (1993). Manajemen Personalia, Jakarta : Rineka Cipta.
Ningrum W (2013). Pengaruh pendidikan dan pelatihan terhadap kinerja karyawan (studi pada karyawan joint operating body pertaminapertochina east java). JAB. 6(2) : 1-8
Notoatmodjo (2010). Pengembangan sumber Daya Manusia. Jakarta : Rineka Cipta.
Wika AS (2010). Sistem Kesehatan. Jakarta: PT Raja Grafindo.
Yusnita N, Fadhil F (2015). Pengaruh Pelatihan Karyawan Terhadap Kinerja Karyawan pada CV Cibalung Happy Land Bogor. Jurnal Ilmiah Manajemen Fakultas Ekonomi. 1(1):1-5. Doi: 10.34203/jimfe.v1i1.440.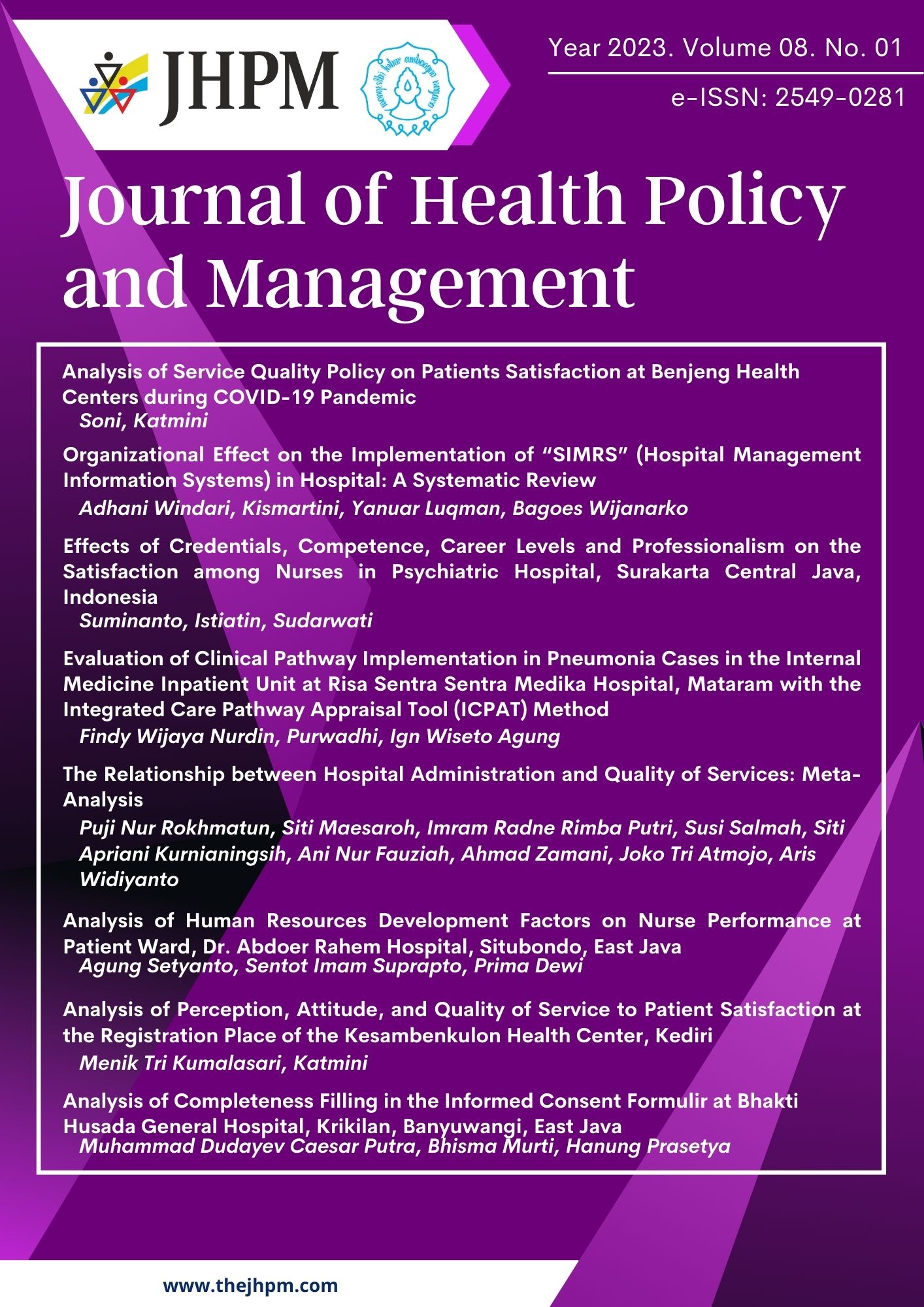 Downloads
How to Cite
Setyanto, A., Suprapto, S. I., & Dewi, P. (2023). Analysis of Human Resources Development Factors on Nurse Performance at Patient Ward, Dr. Abdoer Rahem Hospital, Situbondo, East Java. Journal of Health Policy and Management, 8(1), 48–54. Retrieved from https://thejhpm.com/index.php/thejhpm/article/view/317