Telemedicine, Cost Effectiveness, and Patients Satisfaction: A Systematic Review
Abstract
Background: Telemedicine has been practiced since 1960. The objective of telemedicine was to establish feasible interactive telecommunication for medical diagnosis and treatment of patients at remote sites. Nowadays, with healthcare costs on the rise, telemedicine is increasing­ly being seen as a strategy for healthcare organizations to make cost-saving. This study aimed to explore the opportunity of telemedicine utilization in cost savings to patients and the health care system.Subjects and Method: A systematic review was conducted by searching the published articles from Pubmed, MEDLINE, EMBASE, CINAHL, and Science Direct databases. Keywords for this study were "telemedicine" AND "patient saticfaction", "telemedicine" AND "cost-utility and cost-effective­ness", "tele­medicine" AND "systematic review", and "telemedicine" AND "meta analysis". The data were analyzed by PRISMA flow diagram.Results: 8 articles were selected for this study. These studies reported that telemedicine utiliza­tion in dermatology, radiology, pediatrics, and intensive care unit (ICU) rooms reduced health cost by 56% and patients travel cost to health care by 94%. Telemedicine advantages for patients were reduced transportation time or cost, eliminated time off of work, on-demand option, and reduced time in the waiting room, so that it can increase patient's satisfaction. A study reported that telemedicine utilization at the pediatrics department increased hospital's revenue by USD 101,744 per year.Conclusion: Telemedicine is an alternative health care to generate cost savings for patient and hospital and it can increase patient's satisfaction.Keywords: Telemedicine, cost effectiveness, patient satisfactionCorrespondence: Joko Tri Atmojo. School of Health Sciences Mamba'ul 'Ulum, Surakarta, Jl. Ring Road Utara, Tawangsari, Mojosongo, Jebres, Surakarta, Central Java. Email: jokotriatmojo1@gmail.com. Mobile: 08139331900Journal of Health Policy and Management (2020), 5(2): 103-107https://doi.org/10.26911/thejhpm.2020.05.02.02
References
Akematsu Y, Tsuji M (2009). An empirical analysis of the reduction in medical expenditure by e-health users. Journal of Telemedicine and Telecare. 15(3): 109-11. https://doi.org/10.1258/jtt.2009.003001
Akiyama M, Yoo BK (2016). A systematic review of the economic evaluation of telemedicine in Japan. Journal of Preventive Medicine and Public Health, 49(4): 183–196. https://doi.org/10.3961/jpmph.16.043.
American Telemedicine Association (2016) About Telemedicine, FAQs.
Bradbury A, Patrick Miller L, Harris D, Stevens E, Egleston B, Smith K, Mueller R, Brandt A, et al. (2016). Utilizing remote real time videoconferencing to expand access to cancer genetic services in community practices: A multicenter feasibility study. Journal of Medical Internet Research. 18(2):e23. https://doi.org/10.2196/jmir.4564.
Chavula HK (2013). Telecommunications development and economic growth in Africa. Information Technology for Development. 19(1): 5-23. https://doi.org/10.1080/02681102.2012.694794.
Demiris G, Hensel BK (2008). Technologies for an aging society: A systematic review of "smart home" applications. Yearbook of medical informatics. 33-40. PMID: 18660873
Ekeland AG, Bowes A, Flottorp S (2010). Effectiveness of telemedicine: A systematic review of reviews. International Journal of Medical Informatics. 79 (11): 736-71.
Fitzpatrick D, Grabarz D, Wang L, Bezjak A, Fehlings MG, Fosker C, Rampersaud R, Wong RK (2012). How effective is a virtual consultation process in facilitating multidisciplinary decisionmaking for malignant epidural spinal cord compression? International Journal of Radiation Oncology Biology Physics. 84(2):e167-72. https://doi.org/10.1016/j.ijrobp.2012.03.057
Ito Y, Suzuki W, Tsuji S, Kamata H, Taoka F, Osaka HV (2003). Regional Comparative Study of Home Health Care: Based on a Survey on Kamaishi City and Nishiaizu Town. Japan Journal of Medical Informatics. 23(4): 313-323. https://doi.org/10.14948/jami.23.313
Jacobs JJWM, Ekkelboom R, Jacobs JPAM, van der Molen T, Sanderman R (2016). Patient satisfaction with a teleradiology service in general practice. BMC Family Practice. 17: 17. https://doi.org/10.1186/s12875-016-0418-y.
Kruse C S, Krowski N, Rodriguez B, Tran L, Vela J, Brooks M, et al. (2017). Telehealth and patient satisfaction: A systematic review and narrative analysis. BMJ Open, 7(8): 1–12. https://doi.org/10.1136/bmjopen2017016242.
De La Torre Diéz I, López Coronado M, Vaca C, Aguado JS, De Castro C (2015). Costutility and cost-effectiveness studies of telemedicine, electronic, and mobile health systems in the literature: A systematic review. Telemedicine and e-Health, 21(2): 81–85. https://doi.org/10.1089/tmj.2014.0053.
Mistry H (2012). Systematic review of studies of the cost-effectiveness of telemedicine and telecare. Changes in the economic evidence over twenty years. Journal of Telemedicine and Telecare. 18(1): 1-6. https://doi.org/10.1258/jtt.2011.110505.
Mistry H, Garnvwa H, Oppong R (2014). Critical appraisal of published systematic reviews assessing the costeffectiveness of telemedicine studies. Telemedicine and e-Health. 20(7): 609-18. https://doi.org/10.1089/tmj.2013.0259
Peeters JM, De Veer Anke JE, Van der Hoek L, Francke AL (2012). Factors influencing the adoption of home telecare by elderly or chronically ill people: A national survey. Journal of Clinical Nursing. 21(21-22):3183-93. https://doi.org/10.1111/j.13652702.2012.04173.x.
Sorwar G, Rahamn MM, Uddin RH, Rakibul (2016). Cost and time effectiveness analysis of a telemedicine service in Bangladesh. Studies in Health Technology and Informatics, 231: 127–134.
Wade VA, Karnon J, Elshaug AG, Hiller JE (2010). A systematic review of economic analyses of telehealth services using real time video communication. BMC Health Serv Res. 10, 233 (2010) https://doi.org/10.1186/1472-6963-10-233.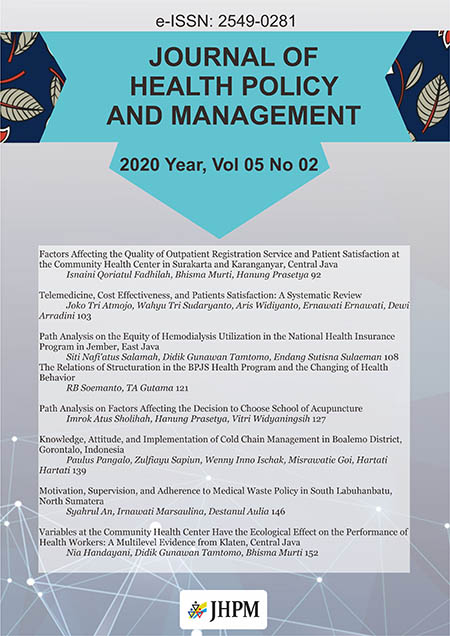 Downloads
How to Cite
Atmojo, J. T., Sudaryanto, W. T., Widiyanto, A., Ernawati, E., & Arradini, D. (2020). Telemedicine, Cost Effectiveness, and Patients Satisfaction: A Systematic Review. Journal of Health Policy and Management, 5(2), 103–107. Retrieved from https://thejhpm.com/index.php/thejhpm/article/view/172